ISSN 2071-8594 Journal is published since 2008 and issued quarterly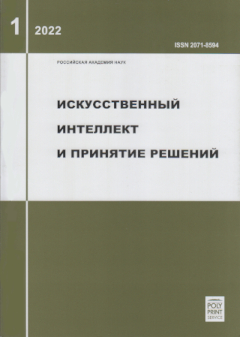 The peer-reviewed Journal "Iskusstvenniy Intellekt i Prinyatie Resheniy" (Artificial Intelligence and Decision Making) publishes original scientific papers and reviews on a wide range of problems in the fields of artificial intelligence and intelligent systems, decision analysis and making, decision support systems, their practical applications.
The Journal topics, requirements to prepare manuscripts for publication, the procedures for considering papers and the rules for reviewing articles, abstracts and texts of published papers are given at the Journal's website. References to the authors and Journal are required when citing papers.
The Journal is published under the scientific and methodological guidance of the Department of Nanotechnology and Information Technologies, the Russian Academy of Sciences.
The Journal is included into the databases of the Russian Science Citation Index (RSCI) and the RSCI core integrated with Web of Science; is into the list of leading peer-reviewed scientific journals recommended by the Higher Attestation Commission for the publication of main scientific results of dissertations for the degrees of doctor and candidate of sciences. The English-language versions of the articles selected by the Editorial Board are published annually in two special issues of Scientific and Technical Information Processing Journal, which is indexed in the Web of Science and Scopus databases. Papers are assigned a DOI index, which is registered in the international registry of scientific information materials and related metadata – https://www.crossref.org.
The Journal is registered with the Federal Service for Supervision of Communications, Information Technology, and Mass Media (Roskomnadzor). Certificate ПИ № ФС77-65720 dated May 20, 2016.
The Journal Subscription Index is 48478 in the URAL-PRESS E-catalog (http://ural-press.ru/).
Founder
Federal Research Center "Computer Science and Control", the Russian Academy of Sciences
44/2, Vavilova ul.,
119333 Moscow, Russia.
Phone: +7 499 135 6260.
E-mail: ipiran@ipiran.ru.
Website: http://www.frccsc.ru
Chairman of Editorial Council,
Editor-in-Chief
Sokolov Igor A.,
Academician of RAS,
44/2, Vavilova ul.,
119333 Moscow, Russia.
Phone: +7 499 137 3494.
E-mail: isokolov@ipiran.ru
Website: http://www.frccsc.ru
Editorial Address
9, Office 512, Prospekt
60-letiya Oktyabrya,
117312 Moscow, Russia
Phone: +7 499 135 2433,
+7 916 305 0694,
E-mail: iipr.isa@mail.ru.
Website: http://www.aidt.ru